Hello, what's up, and welcome to the Lite + Brite newsletter.
You may notice that this week's events are unusually weekend-centric. Next week is fairly quiet due to Thanksgiving (or should we say Tom Hanksgiving?), but if you pack enough into this weekend (and there is a lot to choose from) you'll be grateful for the break. Before the city takes a gravy-tinged breather, we have the final weekend of Austin Studio Tour; the final weekend of Creek Show; the opening weekend of Blue Genie Art Bazaar; and elaborate shows featuring "gender-expansive," queer, and multidisciplinary talent. Scroll down for details on all this and more!
Last weekend was a big one too, and we painted the town red with art, neon, books, + music. Our focus over here is predominantly newsletter-based, but we've also got an Instagram where we post latergrams of some choice events we manage to make it out to. Since there is such an embarrassment of riches out there right now in terms of events, we had our pick of the litter. Peep pics of Austin Studio Tour, Buzzfest, Ion Art's open house, + stay tuned for some Texas Book Fest + Creek Show pics that we're still trying to convince the Al Gore rhythm to let us post.
If you're not already a subscriber to this newsletter and you want to be, click here. We do one newsletter a week, usually on Fridays, plus a bonus edition around the start of each month. If you enjoy this newsletter, please support us by contributing to our Patreon and by forwarding this email to your friends who enjoy things like listening to music and leaving the house sometimes.
Let's do fun stuff!
—Leila + Brian
liteandbriteatx.com

OUR STUFF
Since we've been getting all this lovely fall weather, Brian's robot-themed radio show, No Humans Allowed, was full of icy synthpop and electro. Listen to Heat Sink in the Kpiss archives. NHA broadcasts live every Wednesday at 6pm CT on kpiss.fm.
Our dance party in the dark, No Lights No Lycra, is monthly due to the holidays until January. Our next date is December 14. In the meantime, listen to a live recording of our last edition here or scroll to the bottom of this newsletter.
What is No Lights No Lycra?
Austin's twice-monthly, judgment-free, substance-free, high-impact dance thing in the dark. It's a DJ night that's not at the club, a workout that's not at the gym, a personal meditation that's anything but silent. It's produced by us, your kindly L+B overlords, and usually one or the other of us is on the hook for DJ duties. Read more about us in the Austin Chronicle. You can listen the kind of music we play over on Brian's Mixcloud.
EVENTS WE'RE EYEING
Friday 11/17
Saturday 11/18
Sunday 11/19
Wednesday 11/22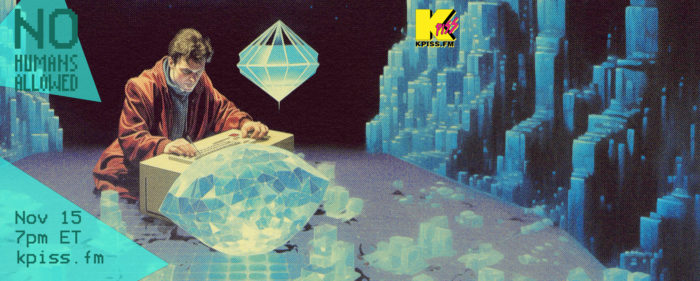 No Humans Allowed 171
Heat Sink
It's a cold snap on No Humans Allowed tonight. Expect temperatures to drop with increasing chances of icy synthesizers. We'll be hearing lots of crisp Autumnal tunes so take precautions.
Tracklist
Goldfrapp – Deep Honey
Double Mixte – Lonely Wolf
Andre Bratten – Ballroom
Mount Sims – Escape Hatch
Counterfeit – The Good Samaritan
Ksky – Phantasy Boy
Neonwerk – La Invasion
Superski – Espace Supertemporel
Transparent Sound – Remanisance
Christopher Just – Moiras Theme
Unai – Blissful Burden
Paul McCartney – Secret Friend
No Humans Allowed is Brian Blackout's award-winning, dodgy European news coverage receiving, weekly robots-themed radio show on internet station KPISS.fm. Machine vibes 4 machines. Songs for robots, androids, mandroids, cyborgs, AIs, cylons, skinjobs, roombas, wifi routers, smart devices, anything colored Bondi blue, and virtual assistants. Humans not required. Broadcasts live every Wednesday at 6pm CT on kpiss.fm, with over 150 episodes now streamable in the archives on topics like and Beach Simulations, Roomba dance parties, undersea adventures + Cyber Texas.
No Lights No Lycra ATX 158
w/Brian Blackout
Recorded live in the dark at West China Tea House on November 9, 2023.
Listen to No Lights No Lycra 158
Tracklist
Au Suisse – Control
David Joseph – Let's Live It Up (Rayko Version)
Kate Bush – Watching You Without Me (Chris Woodward Edit)
Aeroplane – Let's Get Slow
Charli XCX – Boom Clap (Aeroplane Remix)
Saint Pepsi – Better
Black Box – Strike It up
Dérivative – Put Your Hand in Mine (club mix)
Don Ray – Standing in the Rain
Anita Ward – Ring My Bell
Eddie Kendricks – Date with the Rain (PhDJ Edit)
The Clash – Train in Vain (Jimbo Slice Edit)
Scissor Sisters – Fire with Fire (Rory Phillips Remix)
K.W.S. – Please Don't Go
Phil Collins – Sussudio
The Weather Girls – It's Raining Men
Jacknife Lee, Budgie & Lol Tolhurst – Los Angeles ft. James Murphy (the Dare Remix)
Hot Hot Heat – Talk to Me, Dance With Me
Girl Ray – Murder on the Dancefloor
Discovery Zone – Dance II
Pixies – Debaser
Blue Hawaii – I Felt Love
The Jesus & Mary Chain – Head On
The La's – There She Goes
Home – All at Once
PATREON THANKS
A huge thank-you to our Patreon subscribers Christina Jue, Colleen MB, Lilly Ettinger, Lena Long, Amalia Litsa, Jacob Rosenberg, Alexander Freed, Spencer, Kristen Backor, Timon A., Kate Murray, and Amy Wilde. We're deeply grateful for your support, which allows us to do things like "pay our Mailchimp fee" and "spend hours researching Austin events when technically we should be working."
If you'd like to support us on Patreon and get access to exclusive member-only benefits, you may do so here.
SOCIALS

Recent weeks found us taking in the Austin Studio Tour's many wonders, observing collaborative visual + musical artists at Buzzfest, and bathing in neon art at an Ion Art open house. Follow Lite + Brite on Instagram to keep up with our adventures. And come chat with us and the rest of the L+B community on our Discord server!
ABOUT US
How do we choose which events to feature?
Honestly, it's pretty random. We might include anything in Austin that we, personally, would conceivably want to go to, generally excluding normal concerts, comedy shows, and movie showtimes because there are many other good resources for finding those. (We especially recommend Showlist for live music, The Darker Side of Austin for goth and metal stuff, and the 60+ Weirdest Things in Austin for exactly what it sounds like). This list is by no means exhaustive; it's just stuff that caught our eye this week. If you have an event that you want us to consider including, send it over.
Who are we?
We make this newsletter. We do our own events, most prominently No Lights No Lycra (every second and fourth Thursday of the month). We once got called "local Austin couple" by KXAN. We do some other stuff here and there. We love going out to creative events in Austin, and we want you to join us. Visit us at liteandbriteatx.com, and support us on Patreon if you like what we do.
SEE YOU NEXT WEEK, CHAMPIONS