Hello, what's up, and welcome to the Lite + Brite newsletter.
This is a weekend of impossible choices. There's the entire breadth of the Austin Studio Tour, which encompasses 500+ venues—it's so massive that we wrote up a guide—we could spend every waking moment just visiting Studio Tour stops and barely make a dent. Then there's BuzzFest, where our pals at Blend_Mode will be performing along with many other multimedia artists and musicians. There's also the Texas Book Festival, which is basically a huge street fair full of books and authors and the folks who love them (including this year a panel where Leila will be talking about her new book!). There's a live Final Fantasy concert, which appeals to Brian because he spends like 20 hours a week playing Final Fantasy mobile games, and there's the Historic Hyde Park Homes Tour, which appeals to Leila because she loves old architecture and snooping inside strangers' homes.
We cannot do it all and we hate that. Fortunately, Creek Show continues through next week, so we can visit that once the busy weekend is behind us. And no matter how we choose to spend the coming days, we know exactly where we'll be tonight: hosting the November edition of No Lights No Lycra, our dance party in the dark.
If you're not already a subscriber to this newsletter and you want to be, click here. We do one newsletter a week, usually on Fridays, plus a bonus edition around the start of each month. If you enjoy this newsletter, please support us by contributing to our Patreon and by forwarding this email to your friends who enjoy things like listening to music and leaving the house sometimes.
Let's do fun stuff!
—Leila + Brian
liteandbriteatx.com
OUR STUFF
Our dance party in the dark, No Lights No Lycra, will be occurring only twice more before the year is out: next Thursday (November 9) and December 14. So if dancing in the dark was one of your 2023 goals, you have two more opportunities to achieve it. And if it wasn't one of your 2023 goals—well, why not? Listen to a live recording of our last regular edition here or scroll to the bottom of this newsletter for our Halloween playlist.
No Humans Allowed, Brian's robot-themed radio show on Kpiss.fm, got introspective this week with an episode full wistful synthpop about digitized memories. Listen to Extended Memory Manager in the Kpiss archives. NHA broadcasts live every Wednesday at 6pm CT on kpiss.fm.
What is No Lights No Lycra?
Austin's twice-monthly, judgment-free, substance-free, high-impact dance thing in the dark. It's a DJ night that's not at the club, a workout that's not at the gym, a personal meditation that's anything but silent. It's produced by us, your kindly L+B overlords, and usually one or the other of us is on the hook for DJ duties. Read more about us in the Austin Chronicle. You can listen the kind of music we play over on Brian's Mixcloud.

EVENTS WE'RE EYEING
Friday 11/10
Saturday 11/11
Sunday 11/12
Monday 11/13
Tuesday 11/14
Wednesday 11/15
Thursday 11/16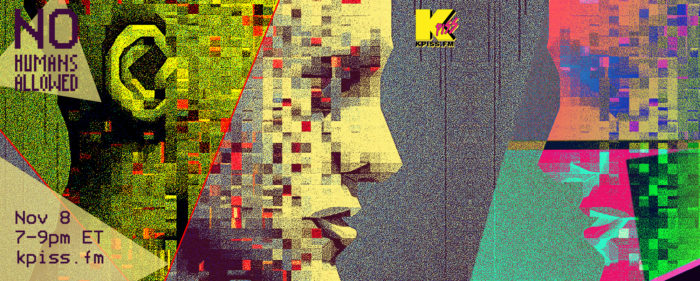 No Humans Allowed 170
Extended Memory Manager
This week on No Humans Allowed, a wistful journey into digitized memories to match with the cozy weather as Autumn proceeds into Winter.
Stream Extended Memory Manager
Tracklist
Kate Bush – Blow Away (for Bill)
The Wake – O Pamela
Solvent – An Introduction to Ghosts
Yumi Zouma – A Memory
Daroc – Moogeux
Anything Box – A Moment's Shifting
Loons – Passageways
Alan Braxe – Time Machine
Long Distance Analog – Plecked Medium
Kap10Kurt – Die Sleeping
Bullion – We Had a Good Time
Cherry Ghost – Finally (Time and Space Machine Re-Edit)
Prefab Sprout – I Remember That
No Humans Allowed is Brian Blackout's award-winning, dodgy European news coverage receiving, weekly robots-themed radio show on internet station KPISS.fm. Machine vibes 4 machines. Songs for robots, androids, mandroids, cyborgs, AIs, cylons, skinjobs, roombas, wifi routers, smart devices, anything colored Bondi blue, and virtual assistants. Humans not required. Broadcasts live every Wednesday at 6pm CT on kpiss.fm, with over 150 episodes now streamable in the archives on topics like and Beach Simulations, Roomba dance parties, undersea adventures + Cyber Texas.
No Lights No Lycra ATX 157
w/Phil Does It + Brian Blackout
Recorded live in the dark at West China Tea House on October 26, 2023. No track listing for this one but there's 45 minutes of dancey stuff and then 45 minutes of spookiness.
Listen to No Lights No Lycra 157
PATREON THANKS
A huge thank-you to our Patreon subscribers Christina Jue, Colleen MB, Lilly Ettinger, Lena Long, Amalia Litsa, Jacob Rosenberg, Alexander Freed, Spencer, Kristen Backor, Timon A., Kate Murray, and Amy Wilde. We're deeply grateful for your support, which allows us to do things like "pay our Mailchimp fee" and "spend hours researching Austin events when technically we should be working."
If you'd like to support us on Patreon and get access to exclusive member-only benefits, you may do so here.
SOCIALS
Recent weeks brought us to a Round Rock parking lot to observe a flock of Purple Martins; the Mesmerize workshop to help build out their Creek Show creation; and the Eureka Room for a closing party. Follow Lite + Brite on Instagram to keep up with our adventures. And come chat with us and the rest of the L+B community on our Discord server!
ABOUT US
How do we choose which events to feature?
Honestly, it's pretty random. We might include anything in Austin that we, personally, would conceivably want to go to, generally excluding normal concerts, comedy shows, and movie showtimes because there are many other good resources for finding those. (We especially recommend Showlist for live music, The Darker Side of Austin for goth and metal stuff, and the 60+ Weirdest Things in Austin for exactly what it sounds like). This list is by no means exhaustive; it's just stuff that caught our eye this week. If you have an event that you want us to consider including, send it over.
Who are we?
We make this newsletter. We do our own events, most prominently No Lights No Lycra (every second and fourth Thursday of the month). We once got called "local Austin couple" by KXAN. We do some other stuff here and there. We love going out to creative events in Austin, and we want you to join us. Visit us at liteandbriteatx.com, and support us on Patreon if you like what we do.
SEE YOU NEXT WEEK, CHAMPIONS