Hello, what's up, and welcome to the Lite + Brite newsletter.
This is a busy week. It seems like event planners were like, "Right, it's after Labor Day, finally we can start organizing events because summer is over"—even though, to be clear, 1) summer does not officially end until September 23, and 2) IT IS STILL 105 DEGREES OUT.
Nonetheless, if you brave the heat, you shall be rewarded. Out there you can participate in a Pee-Wee Herman dance-off or a Jack Black-themed air guitar tournament. You can bounce literally or stylistically. If you go to the Austin Chronicle's annual hot sauce festival, please be careful; do not eat one chip and die. I knew Star Wars had its own day, but this is my first time learning that Star Trek has a day, too. Apparently video games also have a day, which you can celebrate at a MarioKart tournament or a live rock performance of NES soundtracks. And of course you should come to our Thursday evening dance party in the dark, No Lights No Lycra! Scroll down for details on all these events and plenty more.
If you're not already a subscriber to this newsletter and you want to be, click here. We do one newsletter a week, usually on Fridays, plus a bonus edition around the start of each month. Please support us by contributing to our Patreon and by forwarding this email to your friends who enjoy things like listening to music and leaving the house sometimes.
Let's do fun stuff!
—Leila + Brian
liteandbriteatx.com
OUR STUFF
Our next No Lights No Lycra will be next Thursday, September 14, with tunes from guest DJ Phildoesit! You can listen to a playlist of music from our last edition here or scroll to the bottom of this newsletter for a track listing.
No Humans Allowed's cosmic journey through the space continued this week. The fourth dimension is time, and this leg of the journey took NHA through some mid 80s italo, library, and synthpop tunes about eclipses, interplanetary journeys, outer space matrimony, and class M planets. Listen to Cosmic Journey II on the KPISS archives, or scroll down for the full tracklist + art. NHA is live every Wednesday at 6pm CT on kpiss.fm.
What is No Lights No Lycra?
Austin's twice-monthly, judgment-free, substance-free, high-impact dance thing in the dark. It's a DJ night that's not at the club, a workout that's not at the gym, a personal meditation that's anything but silent. It's produced by us, your kindly L+B overlords, and usually one or the other of us is on the hook for DJ duties. Read more about us in the Austin Chronicle. You can listen the kind of music we play over on Brian's Mixcloud.
EVENTS WE'RE EYEING
Friday 9/8
Saturday 9/9
Sunday 9/10
Monday 9/11
Tuesday 9/12
Thursday 9/14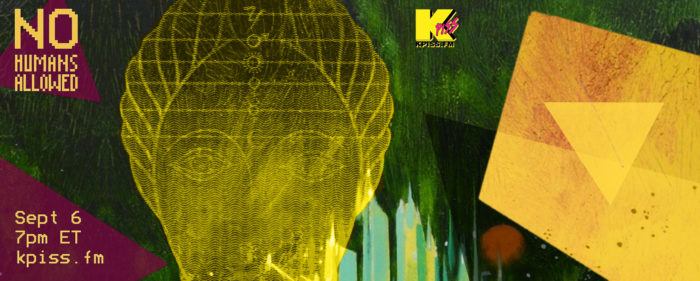 No Humans Allowed 163
Cosmic Journey II
Part 2 of Cosmic Journey, the interstellar excursion we've been on, aired this week, filled with spacey synthpop, italo, + library music. Press play for songs about outer space matrimony, interplanetary journeys, eclipses, and class M planets.
Tracklist
David Van Tieghem – Number One
Karat – Der Blaue Planet (RFX Rework)
Blackway – New Life
Q – The Voice of Q
Anna – Systems Breaking Down (Luxxury Edit)
Jürgen Ecke – HAYH-HAYH
Electrik Funk – On a Journey (B.G. Baarregaard Rework)
Charlie – Spacer Woman
I:Cube – Hnt
John Cooper Clarke – (I Married a) Monster from Outer Space
Nini Raviolette – Suis-Je Normale
Software – Voice Bit
Frank Duval – Ogon
The Creatures – Solar Eclipse
Joël Fajerman – Racines Synthétiques (Boys from Patagonia Edit)
Brian Blackout's award-winning, dodgy European news coverage receivingweekly robots-themed radio show on internet station KPISS.fm. Machine vibes 4 machines. Songs for robots, androids, mandroids, cyborgs, AIs, cylons, skinjobs, roombas, wifi routers, smart devices, anything colored Bondi blue, and virtual assistants. Humans not required. Broadcasts live every Wednesday at 6pm CT on kpiss.fm, with over 150 episodes now streamable in the archives on topics like and Beach Simulations, Roomba dance parties, undersea adventures + Cyber Texas.

No Lights No Lycra ATX 154
w/Brian Blackout
August 10th at West China Tea House
Listen to No Lights No Lycra 154
Tracklist
Kongas – Why Can't We Live Together
Julien Love – Peace, Love, Technique
Claudia Telles – Foi como um Sonho (Patchouli Brothers Edit)
Khruangbin – Time (You and I)
Bee Gees – Night Fever
Happy Mondays – Step on
Flamingosis – Two Steppin' into Fantasy
Talking Heads – Road to Nowhere
Pino D'Angio – Ma Quale Idea
Missy Elliot – She's a Bitch (Big Ass Manatee Remix)
Louis La Roché – Do You Remember?
Daft Punk – Get Lucky
Waffles – 007A
LCD Soundsystem – Tonite
Cathy Dennis – Just Another Dream
Apparel Wax – 005A1
Captain Hollywood Project – More and More
Basement Jaxx – Romeo
Junior Senior – Shake Your Coconuts (DFA Remix)
I Love You But I've Chosen Darkness – According to Plan
Romeo Void – Never Say Never
Wet Leg – Chaise Longue
Blur – Song 2
The New Radicals – You Get What You Give
Home – All at Once
Justine & the Victorian Punks – Still You
PATREON THANKS
A huge thank-you to our Patreon subscribers Lena Long, Amalia Litsa, Jacob Rosenberg, Alexander Freed, Spencer, Kristen Backor, Timon A., Kate Murray, and Amy Wilde. We're deeply grateful for your support, which allows us to do things like "pay our Mailchimp fee" and "spend hours researching Austin events when technically we should be working."
If you'd like to support us on Patreon and get access to exclusive member-only benefits, you may do so here.
SOCIALS
Follow Lite + Brite on Instagram to keep up with our adventures. Recent weeks brought us to a fiber artists' talk at ArtUs Co., a backyard carnival and variety show, and a flock of Purple Martins in a Round Rock parking lot. And come chat with us and the rest of the L+B community on our Discord server!
ABOUT US
How do we choose which events to feature?
Honestly, it's pretty random. We might include anything in Austin that we, personally, would conceivably want to go to, generally excluding normal concerts, comedy shows, and movie showtimes because there are many other good resources for finding those. (We especially recommend Showlist for live music, The Darker Side of Austin for goth and metal stuff, and the 60+ Weirdest Things in Austin for exactly what it sounds like). This list is by no means exhaustive; it's just stuff that caught our eye this week. If you have an event that you want us to consider including, send it over.
Who are we?
We make this newsletter. We put on No Lights No Lycra every second and fourth Thursday of the month. We do some other stuff here and there. We love going out to creative events in Austin, and we want you to join us. Visit us at liteandbriteatx.com, and support us on Patreon if you like what we do.
SEE YOU NEXT WEEK, CHAMPIONS